TP Transcription offers an outsourced typing solution for companies, universities, professionals, individuals, government institutions, churches, hospitals and many others. The company was established in Leicester, UK in 2001 and over the years has expanded operations to include bases in Dublin, London and Glasgow. We have many satisfied customers around the globe sending us ongoing orders, recommendations and referrals.
The company has DBS checked personnel (UK government Disclosure and Barring Service) and hold UK BPSS clearance (UK government Baseline Personnel Security Standard), GDPR IASME Accreditation (General Data Protection Regulations – EU Standard) and hold Cyber Essentials Accreditation (UK Government standard for cyber security).
We are ISO 27001, ISO 9001 and ISO 14001 accredited. We have completed the UK NHS Data Security and Protection Toolkit assessment. We are an accredited Select & Bloom supplier (public sector) and we hold Professional Indemnity Insurance of up to £5 million – click here to see our insurance certificate. Every year we donate 10% of our profits to charity via the Ten Percent Foundation and have been doing this since we started.
What do our Clients think of our Service?
Click here for testimonials from our clients, some of whom have been using our services for over 10 years.
Who we are
TP Transcription Limited has been providing transcription services and typing services since 2001. We have had many satisfied clients over the years, many of whom use our services again and again, as well as recommend us to colleagues and other businesses. We regularly take bulk orders of over 200 hours of transcription work, and have the capacity to handle large and small assignments. We also own www.universitytranscriptions.co.uk, a specialist academic transcribing service and www.universitytranslations.co.uk for transcription and translation in any world languages other than English.
The company has been operating for over 20 years and some of our clients come back to us again and again as well as recommend us to colleagues due to the high standard of service that we provide.
Transcription is undertaken by Irish and UK based native English speaking transcribers. All of our transcribers are graduates or experienced legal, medical and business secretaries. At present the company has 110 transcribers together with a secondary bank of secretaries to use for particularly large or urgent orders and we are able to take on a significant amount of work as a result. We work with translators around the world to prepare transcriptions in any language.
Accreditations
We hold a Cyber Essentials certificate, we are IASME GDPR accredited and we are an ISO 9001, ISO 27001 and ISO 14001 systems accredited company. We sign confidentiality undertakings as required.
Anna Gresty, our Managing Director, has BPSS UK Government (Baseline Personnel Security Standard) clearance. The BPSS check is the default employee screening standard used for anyone working within or on behalf of a government department. We are preferred suppliers to most UK universities and an accredited Bloom supplier.
We are Disability Confident committed and a Living Wage Employer accredited by the Living Wage Foundation. The company has an equal opportunities policy and a copy is available on request.
We are corporate members of the Transcription Society and the American Translators Association (as well as English to English transcription we also handle other language transcription and translation).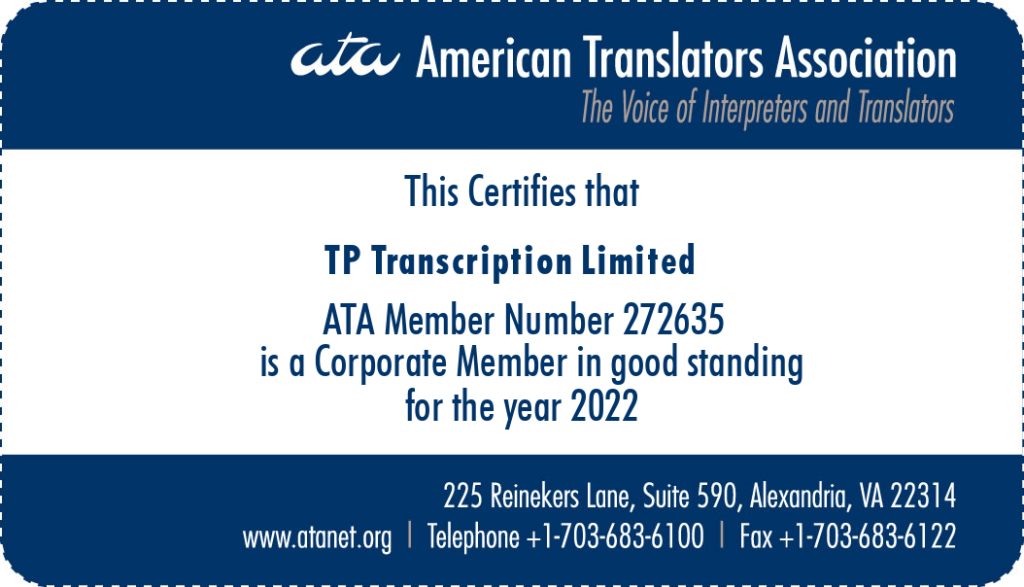 TP Transcription.co.uk, UniversityTranscriptions.co.uk and UK-Transcription.co.uk are trading names used by TP Transcription Limited, a company in England and Wales, no.4946815. Dun & Bradstreet number 736877809. The company is part of the Ten-Percent Group of Companies and is committed to donating a percentage of its profits to charity. Data Protection – TP Transcription Limited is registered as a data controller with the UK Information Commissioner's Office – ref ZA305217. Our data protection policy is available here – https://www.universitytranscriptions.co.uk/about/data-protection-policy/
To speak to our Transcription Manager, please call Anna Gresty on 01745 813306 or email her at anna@tptranscription.co.uk